Rearing healthy and robust calves – lessons from the poultry industry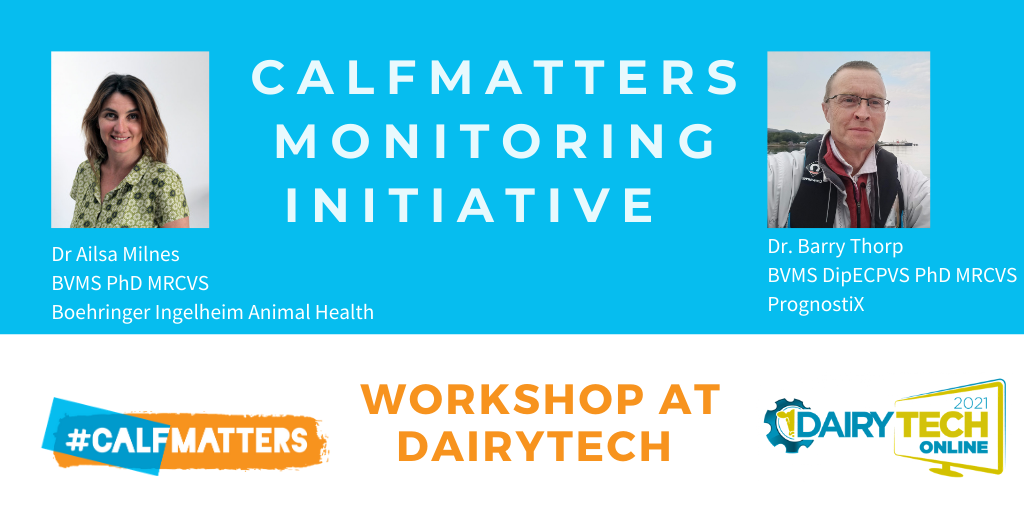 #Calfmatters was delighted to host a workshop at the virtual Dairy-Tech event entitled Monitor calf sheds to support calf health, which was the result of an on-going collaboration with experts from the poultry sector and on-farm projects with dairy farmers.
"Good health in the young calf is critical to ensure that animals go on to perform as anticipated, whether in the beef or dairy herd," said Dr Ailsa Milnes of Boehringer Ingelheim Animal Health. "Yet respiratory disease in calves remains one of the main health problems leading to reduced growth rates, increased age at first calving, lower milk yield and, ultimately, reduced life expectancy.
"If you consider that 14.5% of dairy heifer calves do not make it to first lactation1, there is clearly a way to go in terms of improving calf resilience and robustness in the face of the challenges they face," she added.
"Calf health is influenced by many factors but some, such as colostrum management, vaccination and hygiene are within the control of the farmer," Dr Milnes added. "By aiming to produce a resilient calf with a robust immune system, housed in a good environment, the balance in favour is being pushed towards the calf and allowing them the best possible start."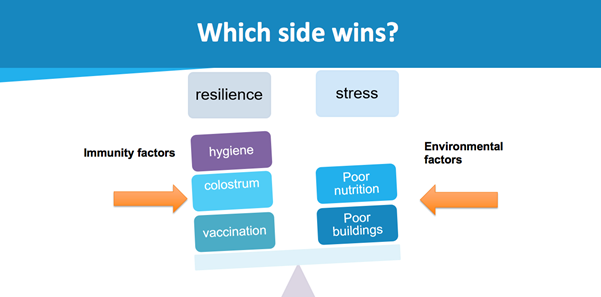 "At the same time, the calf sector has been identified as a hot spot for antibiotic use, with RUMA aiming to secure a reduction of 25% in calves by 2024 against 2020/2021 levels2," Dr Milnes said. "The dairy sector has responded well and there has been fantastic progress but scrutiny of the calf sector will take place and may well show that use is falling more slowly.
"Simple steps such as colostrum quality measuring as well as making sure calves get the right amount in the first few hours after birth, vaccination, good standards of hygiene and an appropriate environment will all help.  The environment is important and this is where we can learn lessons from the poultry sector," she remarked.
Over the last year, the #Calfmatters team has been working with Dr Barry Thorp from Prognostix to develop launch the Calfmatters Monitoring Initiative.  Over the last 10 years, Prognostix has has developed novel approaches to environmental monitoring in poultry housing, which has supported the industry to reduce antibiotic use significantly in recent years, whilst maintaining health and productivity.
"The balance was not in the chick's favour but by using more vaccines, improving cleaning and disinfecting in the shed as well as biosecurity and monitoring the housing environment, this could be reversed," said Dr Thorp.
Like young calves, chicks are extremely sensitive to environmental factors and the use of controlled environment poultry housing has provided birds with conditions as close as possible to their optimum environment. This is something that Dr Thorp thinks could be replicated in calf housing to great effect.
Prognostix developed an in-shed device that collects and measures a shed's temperature and humidity. This data is then collected centrally, interrogated allowing management decisions can be made and then implemented. These devices are now being rolled out onto calf units, via the #Calfmatters Monitoring Initiative.
"Data so far show that the temperatures within a single shed can vary significantly, with one farm varying from a low of 1.8°C to a high of 18°C in one 24 hour period. Is another area draughtier than elsewhere? How does the temperature vary between floor-level and up in the roof? Armed with this information, appropriate  changes can be made and feedback, even at this early stage, looks extremely promising," Dr Milnes told the workshop.
The temperature range within a poultry shed can be significant: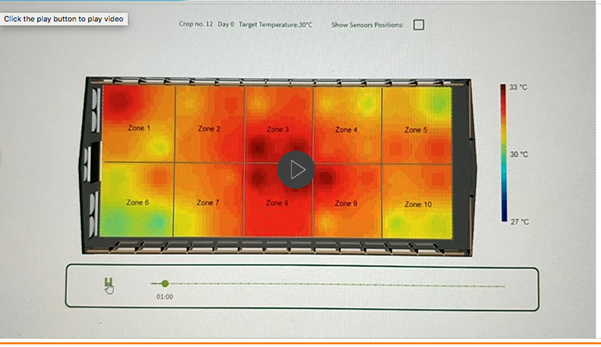 Variations within a shed: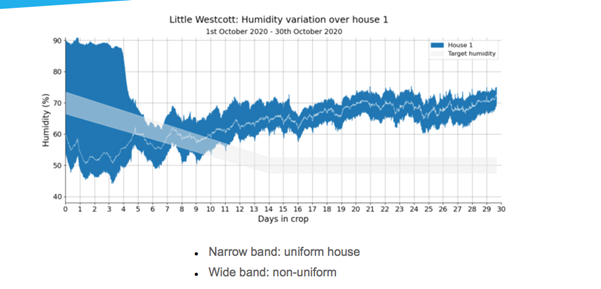 The environment in a calf shed is made up of five areas:
Hygiene
Ventilation – fresh air
Air speed/draughts
Moisture
Temperature
"We know that the stack effect impacts ventilation in adult cattle buildings – heat generated by ruminating stock leads to warm air rising to escape, causing fresh air to be drawn in through the sides," she reminded attendees. "But young calves don't ruminate and are unable to produce enough heat for this to happen meaning that putting them in a building designed for adult cattle could lead to ventilation issues.
"At the same time, young calves are susceptible to cold and even a relatively minor fall in temperature or an increase in draughts will mean that the calf is diverting energy that should be going into growth or fighting infections into keeping warm." she explained.
"The #Calfmatters Monitoring Initiative is an example of how the theory of Total Quality Management, used in a vast number of industries around the world, can lead to rapid and beneficial changes on a farm," Dr Milnes went on to add. "The simple principles of attention to detail in all aspects of whatever set-up you have, monitoring and measuring and then implementing changes as and when needed, can really make a difference. This has the added benefit of allowing you to observe improvements over time, using collected data  which provides an objective evaluatation rather than guess work."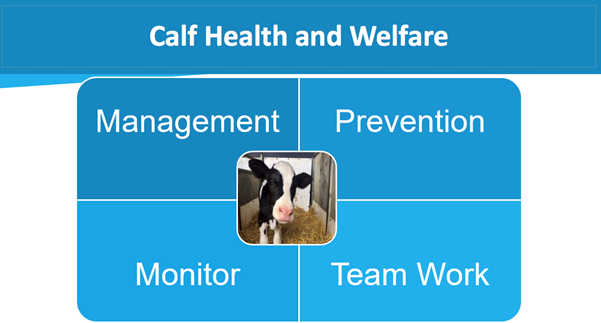 "The #Calfmatters Monitoring Initiative is being made available to farmers via their vet practices as they will collect and interpret the data. 
Brickell et al 2008 Animal 3:8 1175-1182
RUMA (2020) Targets Task Force Report 2020.
An educational service from the makers of the Bovalto® range. Further information available in the SPCs or from Boehringer Ingelheim Animal Health UK Ltd, RG12 8YS, UK. Bovalto® is a registered trademark of the Boehringer Ingelheim Group. ©2021 Boehringer Ingelheim Animal Health UK Ltd. All rights reserved. Date of preparation: January 2021. BOV- ****-2021. Use Medicines Responsibly