Calf pneumonia prevention
Stress, resulting from management practises, sub-optimal nutrition and, in young calves, poor immunity as a result of inadequate colostrum intake, all increase susceptibility to calf pneumonia. Viruses are often the initial invader. They cause lung damage that soon allows secondary bacterial infections to take hold.
Clinical signs of calf pneumonia include:
A temperature of greater than 39.5 °C

Increased breathing rate and effort

Coughing

A nasal discharge which is initially clear and watery, but becomes thick and pus-like as the disease progresses
During the early stages of infection calf pneumonia can be difficult to detect. An elevated temperature is the first sign of disease and typically occurs 12-72 hours before detectable clinical signs appear1.
Around 14% of dairy heifers fail to reach their first lactation and pneumonia is a major contributor to this2.
Calf pneumonia impacts heavily on production costs in the dairy sector. The average cost of a calf pneumonia outbreak has been calculated as a minimum of £43.25 per sick calf3. Daily liveweight gains, targeted at 0.8 kg/day, can drop as low as 0.4 kg/day after an episode of respiratory disease. This growth check directly increases production costs, and can result in a reduction in lifetime productivity7.
Speak to your vet about the most appropriate treatment.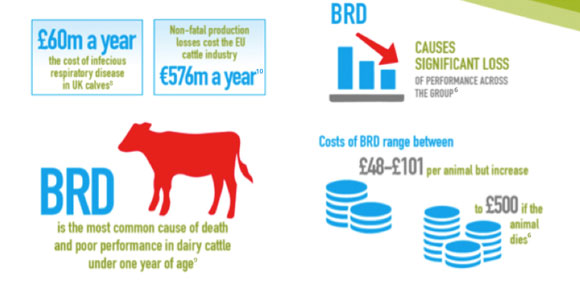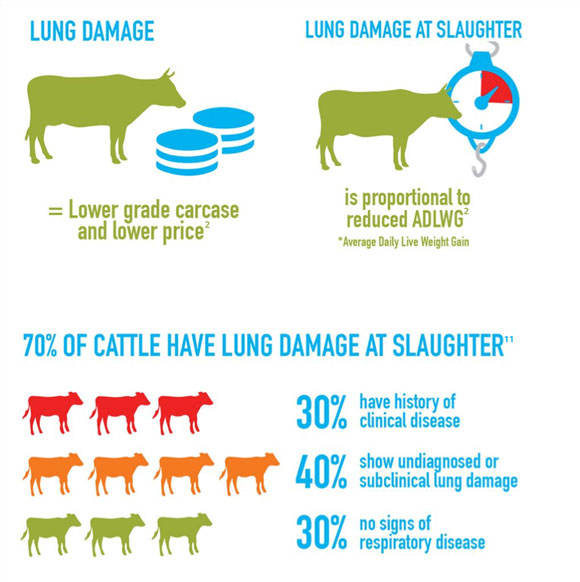 1. Wolfger et al. (2015) A Systematic Review of Bovine Respiratory Disease Diagnosis Focused on Diagnostic Confirmation, Early Detection, and Prediction of Unfavorable Outcomes in Feedlot Cattle. Veterinary Clinics of North America Food Animal 31, 351-365
2. Brickell, J.S., McGowan, M.M., Pfeiffer, D.U., Wathes, D.C. (2009) Mortality in Holstein-Friesian calves and replacement heifers, in relation to body-weight and IGF-1 concentration, on 19 farms in England. Animal 3, 1175-1182
3. 4. 6. Andrews A.H. (2000) Calf pneumonia costs, Cattle Practice Vol 8 Part 2, 109-114
5. Williams, P. and Green, L. (2007). Associations between lung lesions and grade and estimated daily live weight gain in bull beef at slaughter. Cattle Practice 15, 244-249
7. Morrison, S., Scoley, G., Barley, J (2013). The impact of calf health on future performance. Veterinary Ireland Journal. Vol 3 Number 5, 264-268
8. National Animal Disease Information Service (NADIS) (2007) Health Bulletin: Respiratory Disease in Cattle. UK, 1-3
9. Hybu Cig Cymru (2015) Welsh Dairy Heifer Report
10. Stipkovits L., Rosengarten R., & Frey L. (1999) Mycoplasmas of ruminants: pathogenicity, diagnostics, epidemiology and molecular genetics, Edition: Volume 3, Chapter: Impact of mycoplasma infections on respiratory disease in cattle in Europe.
11. Wittum TE, Woollen NE, Perino LJ, Littledike ET. Relationships among treatment for respiratory tract disease, pulmonary lesions evident at slaughter, and rate of weight gain in feedlot cattle. J Am Vet Med Assoc. 1996 Aug 15;209(4):814-8. PMID: 875688